DENTAL SERVICES
Cosmetic Procedures
Having a confident smile can change everything! At Bethpage Smiles, one of our primary goals is to restore and enhance your facial appearance with a beautiful bright smile. We specialize in various advanced cosmetic procedures that are extremely safe & effective to enhance your smile. Teeth Whitening, Invisalign, and Cosmetic Veneers to name a few.
Teeth Whitening
In the expanding world of cosmetic dentistry, teeth whitening always reigns supreme. There are numerous whitening treatments available to satisfy every budget, time frame, and temperament. Numerous surveys have shown that virtually everyone who opts for this cosmetic treatment will see moderate to substantial improvement in the brightness and whiteness of their smile.
However, teeth whitening may not be suitable for all. We recommend having a dental screening and a conversation with a dental professional prior to initiating such therapies.
Type of teeth whitening:
In-Office Whitening – Significant color change in a short period of time is the major benefit of in-office whitening. This protocol involves the carefully controlled use of a relatively high-concentration peroxide gel, applied to the teeth by the dentist or trained technician after the gums have been protected.
Professionally Dispensed Take-Home Whitening Kits – Take-home kits incorporate an easy-to-use lower-concentration peroxide gel that remains on the teeth for an hour or longer (sometimes overnight).
Over-the-Counter Whitening – Teeth whitening toothpaste, mouthwash, strips, available at most drug stores.
Invisalign
Invisalign treatment consists of a series of aligners switched out about every two weeks. Each aligner is individually manufactured with exact calculations to gradually shift your teeth into place. Invisalign is one of the most effortless ways of transforming your smile without having to go through the actual braces.
Cosmetic Veneers
Dental veneers are custom-designed shells of tooth-like ceramic material that, when applied over the surface of a tooth, can cover worn tooth enamel, uneven tooth alignment or spacing, and chips or cracks. Regardless of what causes unattractive teeth, dental veneers may solve most or even all of your cosmetic dental issues.
Types of veneers
The two most common materials used in the manufacture of dental veneers are composite resin and porcelain veneers. Both porcelain veneers and composite veneers can be fabricated by a dental technician in a dental laboratory. However, composite veneers can also be directly fabricated inside your mouth which can provide immediate results without any wait.
Dental veneers that are fabricated in a dental laboratory are bonded to the teeth with various types of resin cement. Of the two options, porcelain veneers are longer lasting but just a bit more expensive.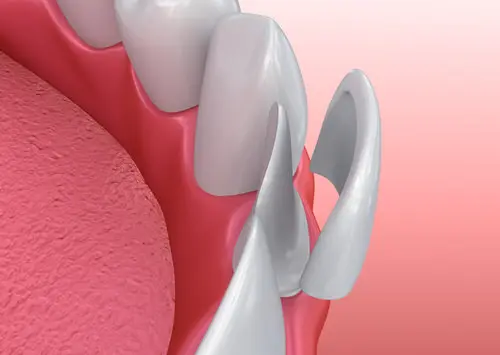 MODERN DENTAL CARE
A beautiful smile can
change everything